Our flagship design
The Alpakka controller is Input Labs' main reference design, a re-interpretation of the standard gamepad that everyone is familiar with, but with advanced gyro controls, mouse-like competitive performance, and the power of an open source community bringing limitless accessibility and customization options.
Having the performance of a mouse combined with the convenience of a gamepad, you won't have to make any compromise anymore.
Nextgen gyro
Engineered for gyro with no compromises, every aspect of the controller is tuned for having pixel-perfect accuracy, ultra low latency, and no acceleration nor smoothing.
With 2 gyro sensors working in parallel, and the hexagonal touch-sensitive surface surrounding the ABXY buttons, we finally cracked the code for gyro as primary input.
Gyro controls are not an afterthought anymore, they are the new default. And since a secondary thumbstick would be redundant, instead it features a scrollwheel and a 8-directional "physical selection wheel".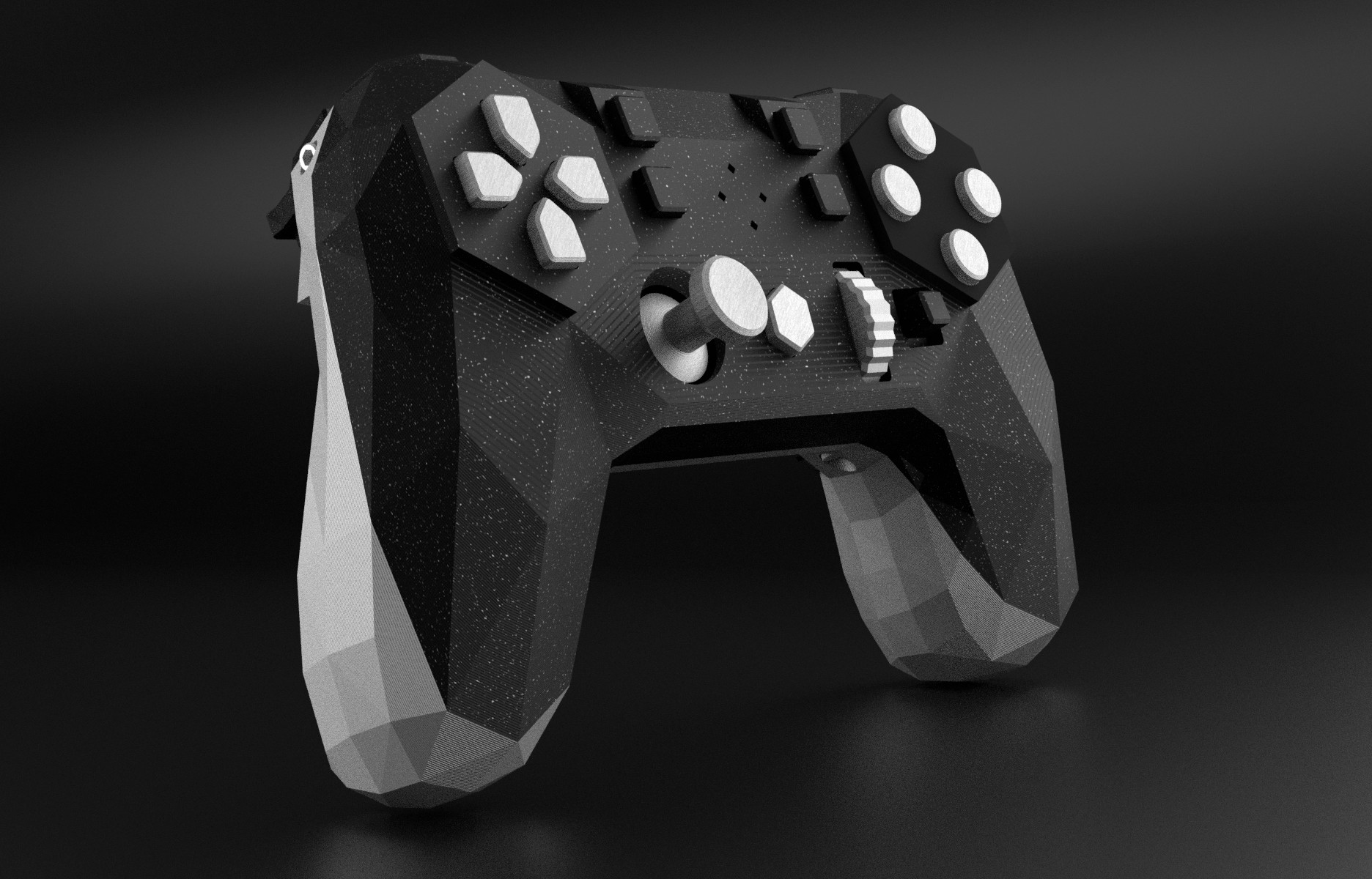 More images and videos ->
No bloat software
"Gaming peripherals and bloatware apps, name a more iconic duo"
No drivers, no overlays, no bloat. The Alpakka firmware emulates as a standard keyboard, mouse, and Xinput gamepad at hardware level; so it just works out of the box in Windows and Linux, and every game launcher.
Instead of having per-game configurations, the firmware includes per-genre profiles, which are also editable in an optional configuration app: Ctrl app (Work in progress).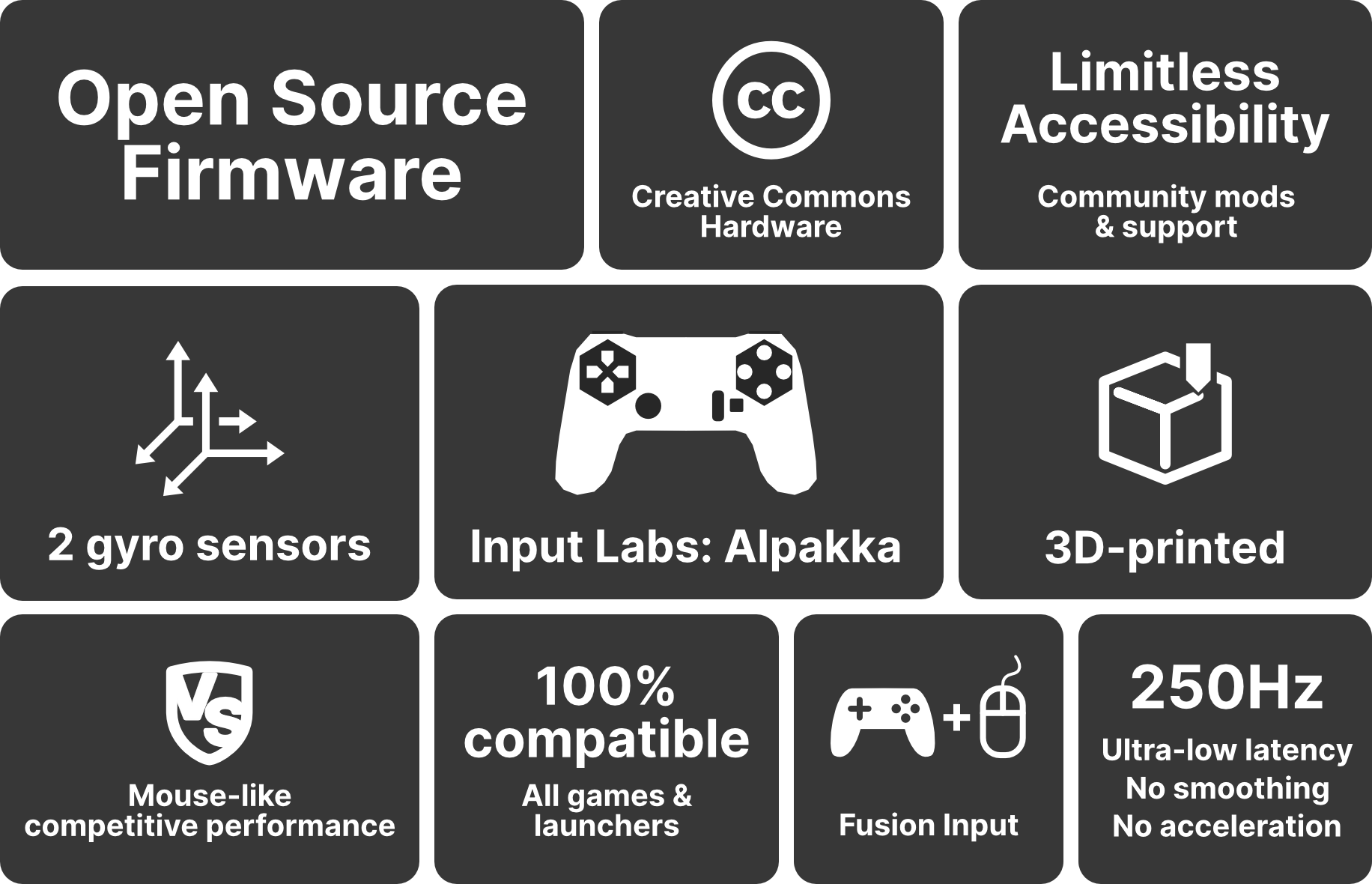 Assemble it your way
Pick your favorite components and materials, and put together your dream controller. Its modular design makes it easy to assemble and to modify every aspect.
Build the reference design, use community mods, or modify it yourself.
At the moment the only way to get an Alpakka is to build it yourself with a 3D printer, to Request a Review Unit for free, or to Become a Tester
See the list of Components and materials.
Overview of development
See Roadmap for more details.
[✔]

Concept.

[✔]

Breadboard prototypes.

[✔]

Firmware.

[✔]

Printed Circuit Board.

[✔]

3D-printed prototypes.

[✔]

Closed alpha testing (5 testers).

[✔]

Reference designs.

[ ]

More built-in profiles / Edit profiles.

[ ]

Wireless.

[ ]

Vibration.
Use-cases
The Alpakka controller could be for you if:
You want to play FPS games on the sofa.
You want to play mouse-cursor games (eg RTS or city builders) on the sofa.
It is difficult for you to use a keyboard.
It is difficult for you to use a thumbstick for aiming.
You have special needs that require controller modifications.
You are interested in a more natural way to aim (actually aiming at things / similar to VR) than traditional input methods.
Read the manual
Check the Manual for things like:
And much more.